On Track Sponsored Event
Instructor Name: Seth Haverkamp
Workshop Dates: March 16-18
Nationally acclaimed artist Seth Haverkamp is coming to the Nashville area for a workshop in March. During a three-day workshop from March 16-18 at On Track Studios just south of Nashville in Franklin, Seth Haverkamp is will teach students on methods for creating more engaging portraits and figure paintings. "Figure Painting: Energized Start, Graceful Finish" will focus on taking the initial idea for the composition and successfully translating it into the finished painting. Students will work from a live model and benefit from critiques and advice from Seth as they work. There will also be a live demo from Seth so students can witness the methods in action.
Seth Haverkamp is one of the most exciting portrait and figure painters working in Contemporary Realism today. For the last 6 years he has consistently received honors from institutions like the Art Renewal Center and Portrait Society of America for his colorful, mysterious, and magical portraits. He is also highly sought after for private commissions. A Studio Incamminati graduate, Seth creates paintings that never fail to capture that special something about the sitter and to engage the viewer to look longer.
For more information on Seth's three-day workshop in Franklin, please contact Brenda Coldwell at On Track Studios at brenda@on-track-studios.com, visit on-track-studios.com,
or call 615-794-4828.
Workshop Location: On Track Studios , 1978 Wilson Pike, Franklin, TN 37067
Workshop URL: http://www.on-track-studios.com/workshops-events/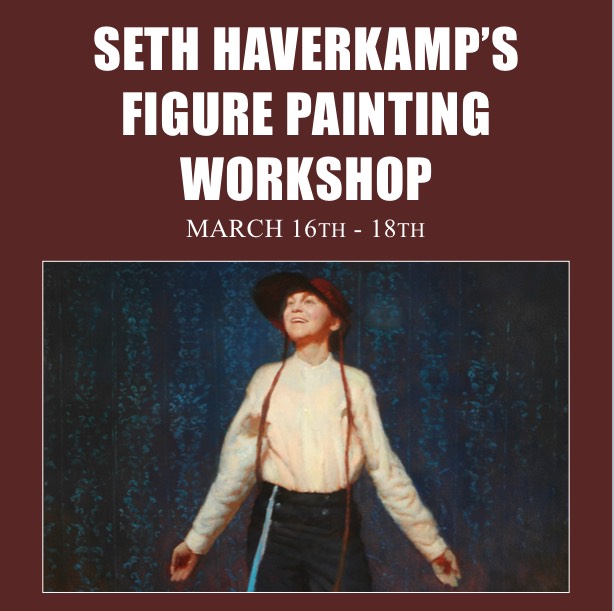 ---