Paint Your Heart Out Workshop – "Capturing A Likeness"
May 12, 2018 @ 9:30 am

-

4:30 pm

$100 – $115
Saturday, May 12th, 2018
Jim Himsworth
Capturing a Likeness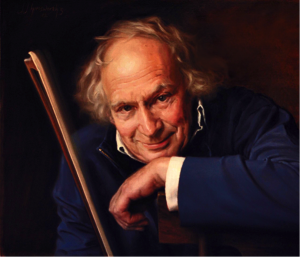 There are four necessities for achieving a successful portrait painting: recording a likeness, capturing a persona, creating a work of art and, when working professionally, pleasing the client. This workshop will focus on the first: Capturing a Likeness! Learn Jim's method of seeing, and then recording, accurate values, colors (temperature), shapes, angles, proportions and edges while avoiding features. Coincidentally and paradoxically, this method, if faithfully executed, inevitably produces a likeness.
Levels for This Workshop: All Levels
Supply List:
Recommended or suggested Oil Colors:  (in order from left to right on palette)
Cadmium Lemon (W+N)
Cadmium Yellow (W+N)
Yellow Ochre (G)
Transparent Oxide Red (Rembrandt)
Cadmium Orange (W+N)
Cadmium Red (W+N))
Perylene Red (G)
Permanent Rose (W+N)
Alizarin Crimson (W+N)
Quinacridone Magenta (G)
Dioxazine Purple (G or W+N)
Ultramarine Blue (W+N)
Cerulean Blue (W+N or G)
Viridian  (W+N)
Phthalo Green (G)
Permanent Green Light (G)
Ivory Black (optional) (G or W+N)
Titanium White (120 ml)  (W+N)
Key:
Winsor and Newton = (W+N)
Gamblin = (G)
Brushes
Silver Brush Grand Prix Brand (recommended).
 Bristle Filberts #2, #4 and #6  (at least three of each).
Paint Rags
Viva Paper Towels (recommended)
Please bring a plastic trash bag to dispose of soiled rags/towels.
Canvas 
At least one Acrylic or oil primed canvas or panel (linen is also acceptable). Size may range from 11" x 14" up to 20" x 26".
A completely dry, toned canvas is preferred, but white is acceptable.
To Prepare canvas tone mix:   (if using an acrylic ground, toning with acrylic or oil paints is fine. If the ground is oil based, use only oil colors to mix the tone.)
2 parts Ultramarine Blue
1 parts Burnt Umber
8 parts White
The result should be a medium-light blue gray tone (aucasian flesh value) , similar to Pantone 401U (Ask art store salesperson for Pantone sample.).
Apply tone thinly, yet opaquely, to white primed canvas or substrate.
Thinner
Must be ODORLESS thinner such as Gamsol, Turpenoid or Turpenoid Natural.
Additional Supplies
Palette knife.
Resealable metal container for odorless thinner (for brush cleaning).
Easel
Handheld Mirror
Related Events