Paint Your Heart Out Workshop – "One Small Painting A Day/Abstract Flowers"
May 10, 2018 @ 9:30 am

-

4:30 pm

$75 – $90
Thursday, May 10th, 2018
Ingrid Derrickson
One Small Painting A Day/Abstract flowers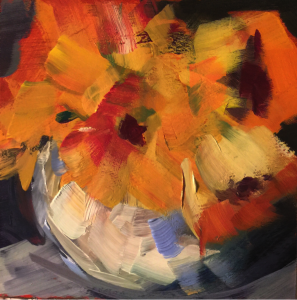 This class is designed to inspire you to start the process of painting one painting daily using Ingrid's expertise in Abstract Flowers. This can be from any small still life setup. I paint a daily floral from fresh flowers every day. The benefits are the daily habit, working from life, developing free and easy brush strokes, and of course, refining the ability to see and mix color, shape, and value.
Student Levels for This Workshop: All Levels
Supply List:
PAINT 
Acrylic, heavy body paints, such as Liquitex or Golden brand
Colors
Alizarin Crimson Hue Permanent
Cadmium Red Medium or Napthol Red
Cadmium Yellow Light
Cadmium Yellow Medium
Phthalo Blue (green shade)
Ultramarine Blue (green shade)
Titanium White
Quinacridone Magenta 
PAINTING SURFACE
Masonite/Hardboard panels. 6"x6", quantity 5.
Available at http://www.dickblick.com/items/14945-1066/
Approximately .75 cents each 
BRUSHES
Windsor and Newton University Bright #8 and #12
MISCELLANEOUS ITEMS
Paper towels
Spray bottle for water with fine mister
View Catcher
Utility spotlight from hardware store, such as Lowe's. Approximately 
$12.00. A valuable tool in the studio for use with still lifes. A great purchase!
50-watt spot Halogen light bulb, Sylvania. A strong, bright, clean light is essential.
Empty container for washing brushes
Disposable paper palette, white
Easel, tabletop or freestanding 
I will provide vases, flowers and colored tissue for background color.
Related Events