Paint Your Heart Out Workshop – "Luminous Skys"
May 9, 2018 @ 9:30 am

-

4:30 pm

$75 – $90
Wednesday, May 9, 2018
Jo Ridge Kelley
Luminous Skies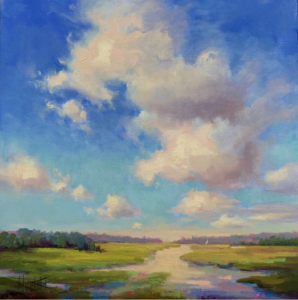 Plein air workshop focusing on capturing luminosity in your skies.  Mixing luscious grays, creating great cloud formation, design, and atmosphere, including tips for capturing vibrant light, will be demonstrated.  Use of palette knife and large brushes and even your fingers to express yourself will be the highlight of this exciting workshop on skies. The palette knife and brushes will be demonstrated for a loose, more expressive capture as well as a more traditional approach to painting clouds.
Student Levels for this workshop: All Levels Welcome
Supply List:
Oil colors- 2 each of primaries – warm and cool plus white
On my palette:  ( mostly Gamblin brand)
Ultramarine Blue
Phthalo Blue Or Windsor Blue-green shade
Cad red medium
Quinacridone red
Cad lemon
Cad yellow medium
Titanium white
Optional:
Viridian
Cobalt Blue light (Rembrandt)
Burnt sienna
Cad orange
Perm Alizarin Crimson
Transparent Oxide Red (Rembrandt)
Transparent Orange
Odorless mineral spirits/brush washer
Viva paper towels
Small trowel type palette knife
Flat hog bristle brushes #4 #8 #12 (Utrecht brand series 209 is good affordable brush)
Small round sable type brush
Rigger or script brush
Pencil or old ballpoint pen
Canvas or canvas panels – 2, approx. 12×16 – 20×20 or 12×24 (I use Raymar linen panels for travel and gallery wrap canvas for local outdoor work) Your choice!
Wet panel carrier (or a way to transport wet canvas)
Plein air type easel- I use Open box M for small panels and my French easel for larger canvas- even up to very wide, elongated Canvases.
Palette (if applicable)
Tote or backpack
Sketchbook, graphite or charcoal
Other:
Water bottle
Sunscreen
Insect repellent
Umbrella
Portable Stool/chair
Hand wipes
Lunch and snacks!
Related Events