Saturday, May 26th, 2018
Laura Shepard
Carnation, Lilly, Lilly, Rose – Come Catch The Twilight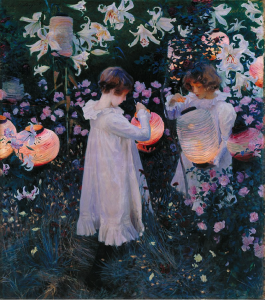 John Singer Sargent's plein air masterpiece, about which poems and musical compositions have been written, was completed over the course of two years, 1885-86. In an attempt to catch the twilight and the lamplight, he painted two young girls in white dresses, lighting their lanterns in an English garden on summer evenings at the same time of day. We are going to explore how he did it.
A short talk will be followed by a full day of painting our own version of Carnation, Lily, Lily, Rose. Each participant will decide how they want to paint it, representationally or as an abstract, the whole painting or a portion of it. At the end of the day, we will share our paintings, our experience, and what we learned.
Student Levels for this workshop: Though everyone is welcome, participants should understand that this is an unstructured, experiential class. The Instructor will be painting alongside the students.
Supply List:
Painting Kit & Surface (panel, canvas, linen)
Your preferred setup, Odorless Gamsol, basic good colors, not student grade.
Participants will be provided with a copy of Sargent's painting or they may wish to bring a laptop computer to work from. Wikipedia has an excellent reference photo of Carnation, Lily, Lily, Rose.
---