Message from the 2022 President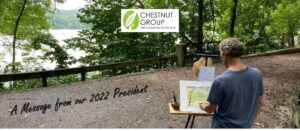 Dear Fellow Chestnuts,
I hope this new year finds you well. We certainly enjoyed a strong 20th Anniversary year to send us forward. I'm excited about how many partner exhibitions we already have scheduled for the next two years. This includes places we have been painting for several years, and new locations that offer the chance to expand into untapped markets.
A primary goal of The Chestnut Group Board is to provide opportunities for painters on any level to enjoy being engaged with other artists who want to capture the energy in the colors and lighting that come from painting directly from Nature. We want to get more members out painting by staging more frequent "paint outs" where members offer instruction while they're at their easels on these various properties where our shows are set to happen.
Nothing teaches us how to improve as fast as teaching others; therefore, we hope that more members will sign-up to host demonstrations and that those who have been hesitant to jump in will at least bring a chair to see how it happens. Please participate – the stage is set.
Our Board invested a lot of time analyzing our budget and sources of revenue. We increased our dues but held the cost of full annual membership to $90. We also added two new levels of voluntary contribution ("Sustaining Friends" and "Underwriting Supporters") on top of membership dues for those who may wish to further support the organization to help us avoid cutting our level of donations to our nonprofit partners and funding needed to deliver our core services. (Learn more: December 8 Announcement: Financial details)
We are elevating our community presence by bringing attention to efforts to protect natural areas as demonstrated with our continued engagement this spring at Lockeland Springs Park. Our art show/sale set for April 7-10 at the Shelby Bottoms Nature Center will raise money with paintings of Lockeland Springs and of local trees to continue our "Speaking for the Trees" series.
In addition to the shows listed below, there are discussions underway for exhibits at several other venues and for "pop-up" painting events. We hope that you'll be a part of all that's underway in the exciting year ahead.
Please take a moment to click through the Chestnutgroup.org website because many of the materials have been reworked, and we think it will be of more service in providing and accessing useful information. As always, please share your ideas and suggestions with us.
The Membership Renewal Campaign officially begins today, January 1, 2022. Please renew your membership now, so that you don't miss out on all this year has to offer!

CLICK HERE: https://chestnutgroup.org/renew-membership/
Sincerely, on behalf of your board,
Judson Newbern
President 2022
Major Shows Scheduled for 2022 – 2023
APR 6-10, 2022: "Speaking for the Trees & Lockeland Springs Park" Shelby Bottoms Nature Center
NOV 10-13, 2022: "Friends of Franklin Parks" Friends of Franklin Parks Event Facility
APR 20-23, 2023: "Friends of Shelby Parks and Bottoms" Shelby Bottoms Nature Center
NOV 2023: "Friends of Radnor Lake 50th Anniversary Show" Radnor Lake Visitors Center