We are legal – turning 21 in 2022, so pour yourself an Adult holiday beverage and Please READ THIS
New information about The Chestnut Group funding model for 2022 and beyond!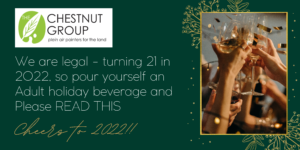 Revised Funding Model for 2022
The Chestnut Group's current funding model has been in place for most of the 20 years of the organization's existence. The main sources of income include the following:
Show sales: 10% generated from sales
Annual Dues: $65 in annual dues; that has not changed for 15 years
PYHO: Money generated from "Paint-Your-Heart-Out" workshop classes taught by members volunteering their time in order to have this instruction offered to members at very low rates.
Visiting Artists: In past years, a fourth source of income came from inviting nationally known instructors here and charging members fees to participate. This was discontinued because local studios began hosting out of town artists and have grown such a strong following that it appears at this time, they are better structured to meet this need.
In the past, The Chestnut Group has set and achieved its budgets by minimizing overhead and by operating within the confines of what these historic sources of revenue generated on a year-to-year basis. We have survived in spite of underfunding and with a dependence on a relatively small group of members who have voluntarily passed along critical duties.
This is no longer viable. In our evaluation, these funding sources are inadequate today. Like it or not, organizations now require dynamic websites to operate. Such websites require too much time and expertise to expect volunteer members to learn and maintain. We currently pay an outside website provider $95/hr to perform web services on our site that are in addition to any consultant fees and volunteer hours that are required to make critical updates to our present site.
In truth, the learning curve for many tasks is now too steep to expect volunteers to take on – much less to sustain. As your board, we kept finding that some tasks required technical skills and time commitment on an ongoing basis that could only be met by employing a professional who would reasonably expect compensation. As you recall, we assembled these skill sets into a new central administrator position to ensure the continuity to our organization that is not feasible with revolving volunteers.
We had the good fortune of finding Suzannah Green with Greentree Consulting to fill our Administrative / Marketing Coordinator position. Her communication and social media skills promote, coordinate, and help manage our website, newsletters, and events with added efficiency. In this first year, Suzannah has shown great willingness to work within our budgetary constraints and has been invaluable in moving us forward despite our website issues, and we have learned how to add value through her engagement.
Changes for 2022
The Board feels the organization's current core needs require a ballpark budget of $45,000 – up from the $25,000 range of recent years. The change is driven by the central administrator's salary, tech-support increases, and the marketing/staging of shows. We examined adjusting the historic funding sources and reached two conclusions:
The annual dues need to increase to $90/year (still just over $7/month), but no higher, because keeping the membership affordable to all is important to our mission.
The formula of splitting sales at 45% artist / 45% partner / 10% Chestnuts has been time-tested and works. It balances many factors effectively and we are not recommending changing it.
In combination, tweaking these sources and including paint-your-heart-out fees will still not cover what we feel is a frugal, responsible budget for next year. We explored generating dollars from one-off efforts that basically amount to "bake sales" – ie. note cards, calendars, T-shirts, etc. These types of ventures carry time-consuming, logistical issues that would consume volunteer time to do well, often barely break even, and, quite frankly, distract from our professional reputation.
Our hope is that you value what our organization is recognized for and will help retain the delivery of the core offerings that we have built over the past twenty years. To this end, we are instituting two new categories of membership that will hopefully generate a funding base each year to avoid having to dramatically increase the $90 membership level and/or adjust the 10/45/45 sales split.
We hope the shared camaraderie – the benefit of expanding venues to paint and host shows, inexpensive PYHO classes, and other resources, will inspire members and nonmembers to show their support at either the "Sustaining Friends" level at $250 or the "Underwriting Supporters" at $500+. Membership will automatically be included with both new levels to avoid the annoyance of tacking on another $90. We will post members in these new categories on our website in appreciation of their generosity and central support. The addition of these levels of membership support is common in groups like ours to supplement our funding model.
It is very common for nonprofits to solicit financial support to achieve the aspirations of their members. Members of The Chestnut Group have forged a special bond through which they serve as a vital resource to the local art community, as well as to their patrons and followers. Elevating the awareness of land in need of preservation and of the environmental interests of this community are very important goals.
Re-cap of three available levels of membership in 2022:
$90 – Annual membership dues for all members
$250 – "Sustaining Friends" level (includes $90 membership dues)
$500 – "Underwriting Supporters" (includes $90 membership dues)
Our renewal campaign will begin on January 1, 2022.
We are poised to carry a more visible role in interacting with a broader network of natural-resource stakeholders in this region. We need patron support to be able to paint at locations that may not have built-in "friends networks" to boost sales, but that keep us in the right place to bring a new perspective to our local landscapes. Rest assured that we are working to add more revenue from commercial sponsors, especially as we elevate our presence on environmental matters.
We will remain an organization dependent upon the willingness of its members to volunteer, and we certainly bring meaning to, "you get out – what you put in". As you can see in the previous December 6 Announcement, we have lined up some great places for the next two years to improve our painting skills and expand our outreach – from Williamson County to East Nashville and everything between. Thank you for your support of this new funding model for our highly respected organization to begin our next twenty years on solid footing.
If you would like to discuss further, we are always interested in hearing from you. Please contact us at judson.newbern@gmail.com.
Stay tuned for your December newsletter coming out at the end of this week!
Happy Holidays to you and yours,
Karen Philpott and Judson Newbern
2021 President        2022 President-elect