2021 Review and Looking Ahead to 2022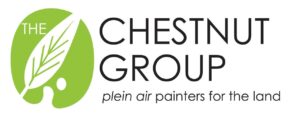 December 2021
Dear Chestnut Members,
By any measure, this 20th Anniversary year has been outstanding.
The "Painting to Preserve" Show at MBA was amazing.  We thank co-chairs Dale Finley and Ellen Bibb for pursuing a partnership with MBA and for their excellent coordination of the many details, including the launch of the first-ever Chestnut Group online show that extended the length of the sale. We are grateful for MBA's generosity in allowing us to stage a powerful exhibit of artwork spanning many locations The Chestnuts have painted. This variation from our more usual model of staging our shows with paintings from a single partner proved successful. We hope to find more places to stage similar shows in the future.
Next came Radnor Lake's record-setting show generating over $75K in total sales. We cannot say enough good things about how well co-chairs Donna Brumbergs and Brigitte Hubbard navigated this event. It was beautifully conceived and handled all the way through.  A huge note of thanks to our co-chairs on both shows, and to ALL the volunteers. Chestnut participation, which is our cornerstone – was excellent on both shows.
As another first, we had members volunteer to photograph paintings after the Radnor show to make them available for another extended online sale. Our online "Speaking for the Trees" show wraps down on Dec 31 but continued to have sales throughout 2021.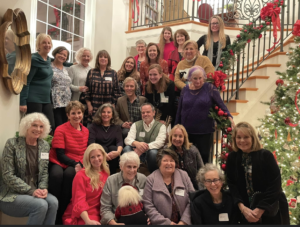 2021 Tis The Season Holiday Party
In our always-looking-ahead mode, we want to outline how next year seems to be shaping up. As you can imagine, much backstage work goes into the mix of variables that must align with each partnership we forge. Synchronizing the timing with what's going on with other nonprofits is challenging. Here are updates on how possible "shows" are looking.
Looking Good for 2022 Art Shows and Beyond…
Shelby Park – We have forged a new partnership to paint and stage two shows at Shelby Park which covers 300 acres in East Nashville along the Cumberland River. The Park was founded in 1912 and expands to 1200 acres when including Shelby Bottoms Natural Area. It has a long list of "friend" supporters who are very loyal to the East Nashville area where we have never had much presence. Several great possibilities for collaboration were discussed. Their "Nature Center" has an amazing room that would handle our shows quite well.
April 7-10, 2022 – Tree Show & Lockeland Springs Combined – Plans are underway with the Shelby Nature Center to host our second in the series of the "Speaking for the Trees" exhibits in early April. We discussed the concept of combining the fund-raising efforts at Lockeland Springs with this new TREES show and sale. Most of us have "tree" paintings in place, and we can open Lockelend to include birds and many animal and plant paintings to help fill the numbers there – plus plans are to start paint-out activities and events at Lockeland as soon as possible.
Painting to Preserve II – Discussions are underway with MBA to stage a possible repeat show with them in June of 2022. More details to come, but this would be similar in format to the June of 2021 show.
Fall of 2022 Friends of Franklin Parks (FoFP) – Plans are in place for an early November show and sale at the Event Facility just across the loop drive from the historic Carnton House. Paintings from all the parks of Franklin will be eligible for this show. FoFP wants this event to introduce our partnership in what will be a series of shows. Completing the renovations of event facilities at Harlinsdale Farms will determine those schedules over the next several years. Good news!

2023 Art Shows
April 2023 – Shelby Parks Full Show – We would need a four-season window to create the paintings and properly stage a full Shelby Park show. This is being planned for Earth Day (April) in the spring of 2023.
November 2023 – Radnor Lake's 50th Anniversary Event – This is the big one for which Radnor has already been creating videos to market our show with them during this next year.
Be on the lookout for another Announcement this week that provides detail on our Membership Campaign for 2022 and Membership dues. These topics will also be highlighted in our monthly newsletter at the end of the week. We are looking forward to an exciting next chapter!
Most sincerely yours,
Karen Philpot  and  Judson Newbern
2021 President        2022 President-elect