Promote Your Paintings for the Show!
The Speaking for the Trees and Lockeland Springs Park show is less than 6 weeks away! Keep sending in those promo images (epbibb@me.com) and use the customizable shell to promote the show with your own work. This art is available here as a pdf for download or jpeg for download and may be personalized and printed, emailed or posted to social media. There are a lot of ways to make this happen and if you regularly use Adobe Photoshop, Indesign, Illustrator, or Acrobat, you will probably be able to do this on your own. If not, I'm happy to help. Just send the image(s) and the message or info you want included to Ellen at epbibb@me.com.
Ellen Parker Bibb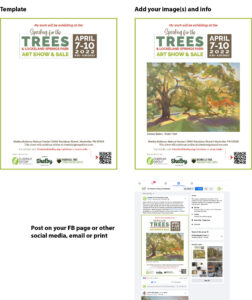 Click download links in paragraph above for larger artwork.
AND – LAST CALL: DON'T FORGET TO RENEW YOUR MEMBERSHIP FOR 2022!