ONLINE SHOW EXTENDED THROUGH FRIDAY, Dec 3 – HELP SPREAD THE WORD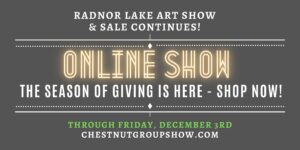 THREE MORE DAYS TO GIVE THE MEANINGFUL AND LASTING GIFT OF ART 
Now through Friday, December 3rd
Dear Chestnuts, we need your help –
Due to ongoing interest in the Chestnut Group/Radnor Lake Online Art Show & Sale, we have decided to extend the online show through Friday, Dec. 3rd. There has been traffic to the site, but not as many conversions as we would like. PLEASE HELP US.
Please share the SHOW information with all your friends and followers. An email is going out to our Friends of The Chestnut Group list and we will have images on our social channels announcing this extension. PLEASE SHARE, comment, and like these communications.
The show website address is https://chestnutgroupshow.com 
Check your email and social channels for more information!
Thank you Chestnuts for all your contributions. We are grateful for you.