FACT SHEET: April Art Show & Sale; INFO: SUNDAY's Photo Shoot at Lockeland Springs Park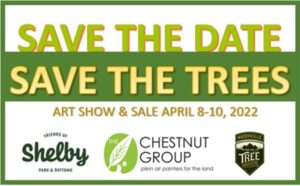 The image above appeared in the Friends of Shelby Park & Bottoms newsletter today.
This show is happening, and SOON!
APRIL 8-10, 2022
Complete SCHEDULE, MAPS, and artist information in

More marketing information will be coming out soon.
PLEASE PLAN TO PARTICIPATE IN THIS SHOW WITH US!
This weekend we will host an opportunity for you to capture images to paint from in your studio during these cold winter days.
PAINT OUT / PHOTO SHOOT INFO BELOW
NOTE: Date has changed from Saturday to THIS SUNDAY.
SUNDAY, JANUARY 23, 2022
11:00 a.m. to 2:00 p.m.
It's Happening… BUT (due to the traffic at the Shelby exit from Saturday's Titans playoff game) we are moving it to THIS SUNDAY!
PLEASE JOIN US TO EXPERIENCE LOCKELAND SPRINGS PARK
LOCKELAND SPRINGS PARK 
PHOTO SHOOT
SUNDAY, JANUARY 23, 2022


11:00 a.m. to 2:00 p.m.
Todd Saal will be painting watercolors and Judson Newbern will guide tours of prime views to capture reference photos of this surviving natural area completely surrounded by picturesque streets.
The homes, churches, and the Park's full range of dramatic landscapes of newly planted saplings scattered among fallen giants from the 2020 tornado all provide rich subject matter.
We need your artwork to make the April Show a success!
Bring your boots! – Nature needs water to work its Magic!!
Contact Judson with any questions (615) 673 5393 or to coordinate on-site this SUNDAY.
Wrap up and join us!
(at least we should finally see the sun!)