2022 Speaking for the Trees Art Show & Sale – Show Recap
Dear Chestnut Members,
The success of a Chestnut art show is simply not possible without our volunteers. We want to share our gratitude and issue a special thank you to everyone who contributed to this successful first-time-ever show.
The "Speaking for the Trees & Lockeland Springs Park" total sales were $32,144 with $15,291 (45% plus the donation paintings) going to the friends' groups, $13,446 (45%) to artists, and $2,568 (10%) going to Chestnuts. We had 187 painting entries from 50 artists, and we sold 62 paintings so far, six of which were donated, with 100% of those proceeds going directly to the friends' groups. Seven paintings were purchased by Chestnut Group members.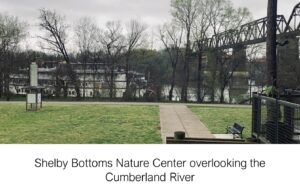 This show was hosted at the impressive Shelby Bottoms Nature Center with its natural setting overlooking the Cumberland River, which complimented the beautiful and quality work by our members.  It was a stellar collection of paintings in an inspiring building with lots of natural light. One visitor was overheard saying after walking just a few feet into the show, "These are real, honest-to-God artists!" This made us laugh and feel proud at the same time. Thank you to every artist for every painting you submitted and every recommendation you made for people to visit the show.  It is brave to display the pieces of yourself that go into these paintings, because there are always some paintings don't go home with someone. That is the nature of an art sale.  Please know that we appreciate you.  We would love to know how many of you experienced making your first sale of your art.
Chestnut President Judson Newbern worked tirelessly to get the mayor's office involved with the patron's event, gaining even more exposure for this first-time effort. Judson's valuable experience brought together the Nashville Tree Conservation Corps on whose board he sits, with Friends of Shelby and Friends of Lockeland Springs.  As chair on the Metro Tree Advisory Committee and boots-on-the-ground involvement, he helped cement a renewed conservation focus for the Chestnut Group. Thank you, Judson, for generously giving your time and talent communicating with the press and government offices to assemble the best message for a successful fundraiser and raise community involvement and awareness. You are a positive influence, reliable and valued leader, with the best sense of connection!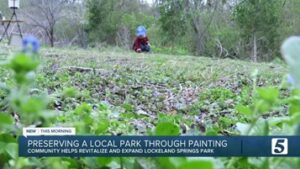 Link to more information on all the event coverage we received.
Chestnut Group vice-president Brigitte Hubbard shadowed Judson during the process, ensuring experience and continuity in successful practices when she begins her term next January. Brigitte offered encouragement and helpful tips as she participated in paint-outs and critiques.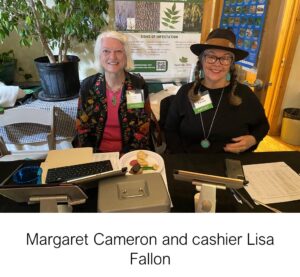 Margaret Cameron brought her expertise and calm demeanor into the daily mix of the cashier's table. She trained several members on operating this portion of the show, which will serve us well in the future. We now have a committee of members who can facilitate the check-out process. She tracked and organized the financials, spending countless hours managing the details. Thank you, Margaret, for your reliability and dedication to the group.
Donna Brumbergs served as an advisor to the chairs with intelligent and successful guidance. She also worked behind the scenes to ensure that we had every advantage for success with process and professional title blocks. Donna communicated the Chestnuts' paint to conserve-and-protect mission on the Claire Kopsky – NewsChannel 5 video [https://youtu.be/tmU5MZBtqIc] news report that was shot on location from Lockeland Springs Park. Thank you, Donna!
Friends of Shelby Park & Bottoms director Rebecca Ratz provided unwavering leadership and sound ideas. She was quick to respond with solutions, and her skilled and efficient management added to the success factor of this first-time show. Thank you for being a trusted partner we can count on, and we hope this continues for years in the future.
Suzannah Green continues to wow us with her skills, competence, and poise as the Chestnut's managing consultant, with over a year of support to our group. Her experience and savvy have broadened the recognition of the group through her media contacts and outreach efforts. Suzannah's behind-the-scenes leadership kept us on track, which is another key to the show's success. Thank you for being the consummate professional, Suzannah, and a complete joy to work alongside.
Ellen Parker Bibb and Jess Peoples took on the Chestnut's marketing responsibilities for the online show and will manage the online art sale that runs April 15-30. They assisted with selecting images used in advertising and social promotion and attended meetings coordinating the marketing efforts. Thank you for the many hours spent managing our social media accounts and for organizing the virtual show on our behalf. Ellen designed the beautiful promotional pieces, the face of the show, working brilliantly in concert with the Friends' groups. Thank you Ellen!
Emily Thompson represented the Friends of Lockeland Springs and worked to ensure the show was advertised and attended by neighbors and stakeholders. She put together a beautiful buffet of refreshments for the patron's party and she also staffed the bar. The party couldn't have been better! There was such an excitement and awe in the room as the patrons looked at Lockeland Springs Park through the eyes of the artists. Here is a link to photos from the patron party.  [https://brookedainty.pic-time.com/-speakingforthetreesevent/gallery]
Dale Finley headed up the installation and teardown of our displays and did it efficiently. His volunteers worked like a well-oiled machine to bring about the set-up and teardown and get it done on time and ahead of schedule. Dale, you are much appreciated for the professional way you approach this vital part of any successful show. We heartily thank you. Seasoned display team member Ed Routon, whose loyalty to the art show success has served many a Chestnut Group endeavor, was again right on the mark. Ed worked out a floor plan in the new venue that maximized the space and display-ability of the panel systems. Thank you Dale!
Anne Goetze led the effort to hang the art with her skillful and experienced approach. She led a team of volunteers making for a well-presented show and a successful event. Thank you Anne!
John Michael and the nature center staff were professional, supportive, and welcoming to the Chestnuts. It was a pleasure to work with them, as we appreciated their always pleasant demeanor. John Michael and the crew led an informative tour and provided time for our questions whenever curiosity arose. The naturalists' enthusiasm for nature was fun for the volunteers. It was a value-added experience. Thank you for your support, and we look forward to a continued partnership.
It's no wonder Shelby Park and Bottoms have the largest friends group on the east side. The established and beloved landmark came into being in 1912. With the addition of the popular Shelby Bottoms added as a Metro Parks Greenway pilot project in 1992, there are over 1,000 acres in combined green space bordered by the Cumberland River. Lockeland Springs Park also has a dedicated fan group for its rich two-acre grounds that will soon grow to nearly six acres. The locals around the park are very aware of the gem outside their doors, and we enjoyed meeting several of them during our paint-outs. Thanks to everyone who painted onsite. The Nashville Tree Conservation Corps has a dedicated board and volunteers making a difference in the tree canopy and awareness of the need for trees across the city. They have worked extensively in Lockeland Springs Park to reestablish the trees taken out by a tornado two years ago. It was lovely to come together with these three groups whose mission aligns with our own and see firsthand the enthusiasm and work that they are doing. Their patrons are passionate about the parks and trees, and it shows in the hours they spend and the art they have purchased in support, as well their kind words of appreciation of the art.
An event like this one only happens with the help of each volunteer – specifically 36 of them. A huge thank you goes out to this particular group – Ellen Bibb, Donna Brumbergs, Dale Finley, Ed Routon, Margaret Cameron, Anne Goetze, Jess Peoples, Sarah Clinton, Suzanne LeBeau, Brigitte Hubbard, Gayle Levée, Jessica Lewis, Melody Hall, Terry Warren, Amy Jaffe, Michael Poindexter, Sheryl Waugh, Carol Johnston, Lana Finch, Cathy Brooks-Fincher, Lisa Fallon, Rebecca Demaree, Karen Philpott, Kristin Condurelis, Mary Margaret Peel, Laurie Pannell, Angela Powers, Carol DeMumbrum, Bitsy King, Barbara Gronefeld, Pam Padgett, Elaine Allen, Lou Hoover, Shannon Smith, Kim Barrick, Andy Furlong – our treasurer who works quietly behind the scenes to ensure our bills are paid, and Suzannah Green who also gave some of her time.  We hope we didn't forget anyone.  You were all amazing!
Now the show moves online until April 30th. Thank you, members, as you continue to spread the word.   https://chestnutgroupshow.com/
It has been a pleasure to serve as co-chairs with such a wonderful and passionate group. We enjoyed working together, and with the whole art show volunteer team.
Sincerely,
Renee Bates and Amanda Sites
2022 Speaking for the Trees & Lockeland Springs Park Co-Chairs
(And our third co-chair Judson Newbern, pictured below, who is currently in Europe celebrating his anniversary with his wife)