Plein Air Painters of the SouthEast September Event
September 10, 2018

-

September 15, 2018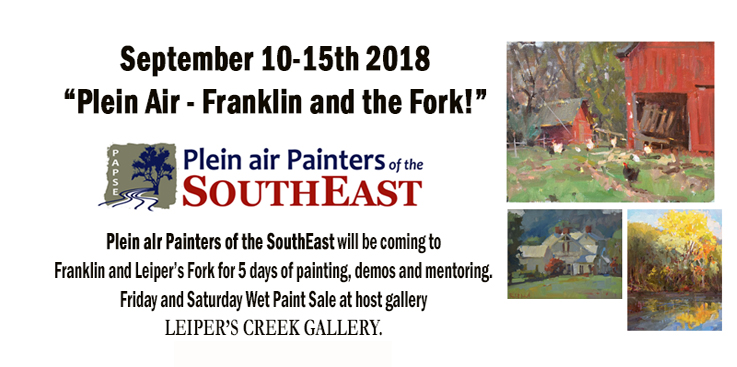 Events Include:
Mentoring – 2 students per guest artist. $150 per 3 hour session.
Paint alongside your mentor for the day and receive instruction.
Mentor Sign up contact: bill@billfarnsworth.com
Monday and Tuesday -Daily Paint Outs. Papse members
Wednesday, September 12- 9:30 am – 4:00 pm
Chestnuts and Papse Paint Day!
Painting in Historic Franklin or On Track Studio -Plein air – Figure in plein air
-Lunch at On Track Studios- 11:30 til 1 pm
Sign up limited to 60.
Sign up contact: brenda@on-track-studios.com
Mentors available- contact info above.
Thursday- Painting the Fork – Mentors available.
Friday, September 14th – Paint Out with PAPSE.
1pm til 6pm Wet Paint on the Porch Sale
LEIPERS CREEK GALLERY
Saturday Sept 15th -Demo Day 10am-6pm -FREE
Wet Paint Sale 10-6pm
LEIPERS CREEK GALLERY
Please "Like" Us at
https://www.facebook.com/papsoutheast/
Workshop Location: Leipers Fork-Franklin-On Track Studios
Workshop URL: https://www.facebook.com/papsoutheast/
Related Events