Paint Your Heart Out Reopens!!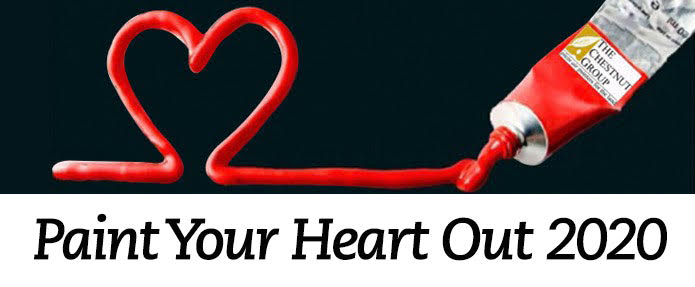 SEE WORKSHOP LISTINGS BELOW  (September-November)
Many thanks to a host of talented Chestnut Members who have created a fabulous offering of instruction. There are 15 workshops to choose from this year, from September 22-November 14, 2020.  Tickets are on a first-come, first-serve basis and you may take as many workshops as you like.
We opened the registration a week early for those members and friends who had previously signed up this Spring and were refunded their ticket payments due to Covid 19 cancellations. Don't wait to register! Many of the classes are filling up!
The Chestnut Group website will process all registrations and payments securing your spot in the class. Checks are not an optional form of payment.  To get the discounted member rate, you must be logged in to the website.  After registration, you will get a confirmation email from the site. Class purchases will also show up on your My Workshops page after processing is complete.
Paint Your Heart Out Cancellation policy for each session:

100% refund for cancellations made more than 30 days prior to the workshop
50% refund for cancellations made 15 to 30 days prior to the workshop
0% refund for cancellations made less than 15 days prior to the workshop 
IMPORTANT Information:
*Dues must be current before purchasing tickets to receive the member discount* 
*Be sure you are logged in to the Chestnut Group website for your member pricing*
*If you have any trouble with logging into the website to access tickets or renew, reach out to Wendy Ervin at 615-419-9339  for assistance.*
SEE WORKSHOP LISTINGS BELOW
September-November
Related Events