Paint Your Heart Out: Design for Impact! with Kay Keyes Farrar
June 10, 2019 @ 9:30 am

-

4:00 pm

$85.00
Monday  June 10, 2019
Design for Impact!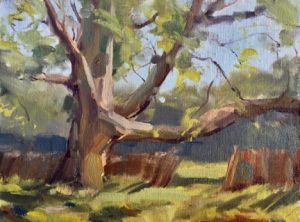 Description: Organize shape, value, directional angles and color to create paintings with impact. Add the fresh brushwork of plein air to capture light, atmosphere and excitement of the outdoor experience so your paintings capture the mood of the day. Start by gathering information in sketches in order to experiment with compositions and gather ideas. What inspired you to paint a particular scene? Concentrating on this one idea will help you through the painting process. Learn to break down the landscape into: directional line, positive and negative shape, value relationships, color harmonies, color intensity and edge quality. Understanding each aspect of the landscape painting in this order helps build confident design to convey your idea. Kay will offer demos in both compositional sketches and oil, and lots of individual encouragement at the easel. Lunch will be a time to gather to share our ideas and paintings. 
Time: 9:30 am-4:00 pm
Member Fee: $65  Non-member Fee: $85
To Register, go to:   Design for Impact
Location: Meet at Leiper's Creek Gallery, 4144 Old Hillsboro Rd. 37064
Student Levels for this workshop: Beginning and Intermediate
Student Limit:  12
Supply list: Please bring what supplies you are comfortable with and confident using. 
Sketch book for design compositions value pencils or gray markers suggested 
Plein Air gear set up, paper towel,
trash bags ,sunscreen, 
water
brush washer with Gamsol, Odorless mineral spirits suggested No paper palettes please. 
Titanium White,
Cad Yellow Light, Cad Yellow Medium, Yellow Ochre, Alizarin Crimson, Cad Red Medium, Ultramarine Blue, Cobalt Violet
Burnt Sienna, Burnt Umber 
Variety of Brushes – I like Rosemary Brushes (daggers and angle brushes, filbert and rounds) and Master's Touch 
Related Events