Paint Your Heart Out: Capturing Character in The Portrait with Chantel Barber
May 6, 2019 @ 9:30 am

-

4:30 pm

$85.00
Monday, May 6th, 2019
Capturing Character in The Portrait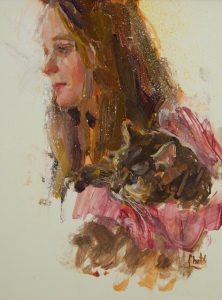 Description: In this workshop, Chantel will demonstrate painting a portrait based on a reference photo, while sharing valuable insight into the differences between working from life versus a photograph. Students will learn: what photographs make the best references for portrait painting, editing (what you leave out is just as important as what you keep in), color mixing tips, and how to recognize value patterns and use them. Students will also learn the importance of edges when loosening up a painting. Students may bring their own photographs. Chantel will work in acrylics but both Oil & Acrylic painters are welcome!
Time: 9:30 am-4:30 pm
Member Fee: $65  Non-member Fee: $85
To Register, go to:  Capturing Character in the Portrait
Location: OnTrack Studios – 1978 Wilson Pike, Franklin, TN   37067
Student Levels for this workshop: Intermediate and Advanced
Student Limit:  15
 Supply list: For Acrylic
Filbert natural white hog bristle brushes in sizes 2, 4, 6, 8, and 10.
I recommend and use Silver Brush Grand Prix Superior Bristle Brushes & Robert Simmons Signet Brushes, but other Filberts will do as long as they have a stiffer feel. Brush sizes are not standard among all manufacturers, so I recommend looking up Silver Brush Grand Prix Superior Bristle Brushes online using my above recommendation as guide in order to know what sizes I am using.
Masterson's Sta-Wet palette system (12×16) with sponge & Masterson's Palette Paper. This simply is a must. Without this system the paint will dry quickly and be difficult to work with. The red lid comes with sponge & paper in it.  The blue lid does not include these, so the paper and sponge need to be purchased separately.
Painting towel – thick white cotton for wiping excess paint on
Container to hold water for painting
Liquitex or Golden Heavy Body Acrylic Paints (other brands are acceptable) – Cadmium Yellow Light, Cadmium Orange, Alizarin Crimson Hue, Ultramarine Blue, Titanium White, and N8 Neutral Grey (Golden Heavy Body). It is best to avoid the hues of Cad Yellow Light and Cad Orange but purchase the true color instead. N8 Neutral Grey is a very light grey used in place of white for mixing – this allows white to be saved and used to mix the lightest highlights.
Two canvas or painting panels – all sizes 11×14, and smaller, are acceptable (applying gesso to the surface is recommended if it is of a lesser quality. Sennelier makes a fabulous acrylic white gesso.)
Paper towels- blue shop towels are highly recommended
Hand held or compact mirror
Reference photographs (hard copy or electronic). Hard copy can be a 5×7 or larger. Electronic can be on any device other than a smart phone since the image is too small to work from.
Related Events