Paint Your Heart Out: Painting Trees in All Seasons with Karen Philpott
May 30, 2019 @ 9:30 am

-

4:00 pm

$85.00
May 30th, 2019
Painting Trees in All Seasons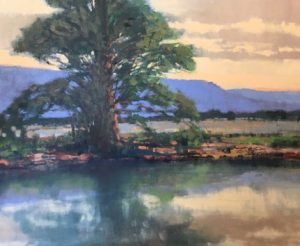 Description: For an artist painting the Tennessee landscape one of the greatest elements you can capture are trees.  Here in the South trees captivate artists in every season with their soft spring auras, the lush greens of summer, their vivid fall foliage and the lovely long winter shadows. In this class students will explore how to accurately place trees in the landscape and paint them as they change throughout the year.
Time: 9:30 am-4:00 pm
Member Fee: $65  Non-member Fee: $85
To Register, go to:  Painting Trees in all Seasons
Location: OnTrack Studios – 1978 Wilson Pike, Franklin, TN   37067
Student Levels for this workshop: Beginning to Intermediate 
 Student Limit:  12
 Supply list:
Artists must provide their own materials including:
Palette
Paper Towels
Grocery bag for trash
Mineral spirits Gamsol (no turpentine please)
Brushes: these are suggestions…
Hog bristle -flats # 8,6,4,3
Filberts # 10,8,4
Rounds #10, 8,4,
Paint : Artist are welcome to bring their own paint
(Karen uses an expanded limited palette… Titanium white, Cad lemon pure, Indian yellow, Cad red light, alizarin crimson, transparent red oxide, ultramarine blue, cobalt blue, cerulean blue.
Canvas (2 9×12 and one 16 x 20
Palette knife
Standing easels, chairs and tables are available at the studio (or Artists may bring their own)
"You will learn to paint trees only by understanding them, their growth, their nature, their movement – and realizing that they are conscious living things. A tree seldom if ever encroaches upon the liberty of another tree. It never wastes its growth in unnecessary twistings." (John F. Carlson)
 Please pack a lunch! Bring your field chair!
Related Events