Description
Shelby Keefe is an award-winning impressionist painter, teacher and performance artist. Born in Whitewater, WI. Always painting while working as a self-employed graphic designer, it was in 2005 when her success as a fine artist allowed her to become a full -time painter. Her award-winning urban landscape paintings and plein air work have earned her participation in prestigious national juried shows, plein air competitions, residencies, and arts festivals as well as garnering commission work for many corporate clients and private collectors. She has been written about and featured on the cover of Southwest Art and Plein Air Magazines and continues to grow her reputation nationally.
Shelby has numerous awards from Juried Exhibitions, Shows, Plein Air Competitions.
Her work is in many collections and Commissions.
She is a member of OPA, AIS, and AWA and is represented in many galleries.
Artist Statement
"I am passionate about drawing and depicting my subjects with honesty as well as expressiveness. My goal is to create a fresh perspective to the recognizable world without being predictable or mundane. Being comfortable at rendering in oil paint, I enjoy tackling complex subjects from cityscapes to the figure in the alla prima method of wet on wet. Utilizing a vibrant underpainting technique of complimentary colors, my oil paintings are complex, but not overly worked. As I continue to grow as a representationalist painter, I plan to develop my ability to say more with less."
View more at http://www.studioshelby.com
Cancellation Policy: If cancellation is made on or before August 1, 2019, you will receive a PARTIAL REFUND of 25% of workshop fee. The balance is nonrefundable unless your space is filled.  If cancellation is made after August 1, 2019, the workshop fee is NONREFUNDABLE unless your space is filled. We appreciate your understanding.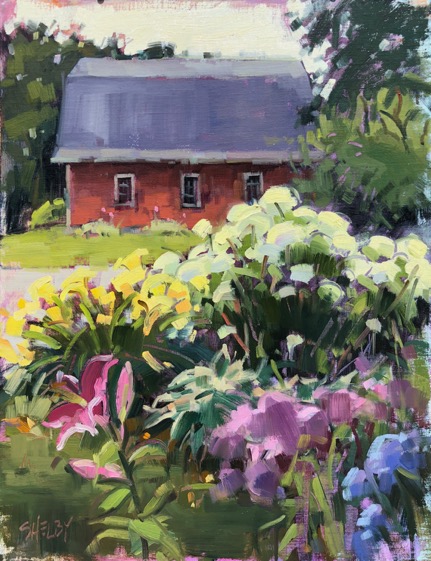 Abundance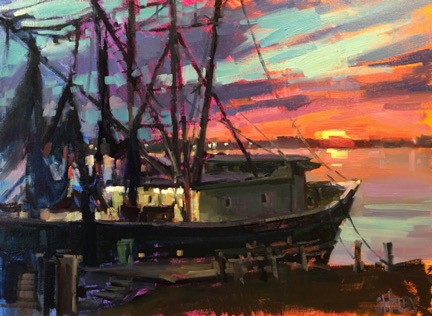 Day is Done Gone The Sun