Bold Brush Plein Air Three Day Workshop
with
OCTOBER  3-5, 2019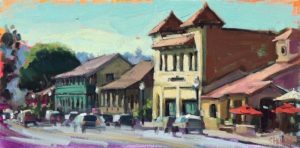 Early Start (Capistrano)
$495 Non-member Price/$430  Member Price
Space Limited to 15 Students
(calendar currently not working…we're on it!)

Bold Brush Plein Air Three Day Workshop with Shelby Keefe (Chestnut Group Hosted)
October 3

-

October 5

$495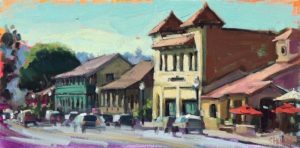 Early Start (Capistrano)
$495 Non-member Price/$430  Member Price
Space Limited to 15 Students,
$150 due at registration, $280 due by August 10th, 2019 
One of the biggest challenges for plein air painters is to successfully narrow down infinite amounts of detail and express the essence of a scene. Students will learn and apply strategies for simplification, value accuracy, compositional uniqueness and much more. Shelby will share her method of applying complimentary colors as an underpainting to the white canvas, and jumping in with both feet to grab the light before it changes. She will demonstrate her technique every morning and then help each student one-on-one throughout the rest of the day.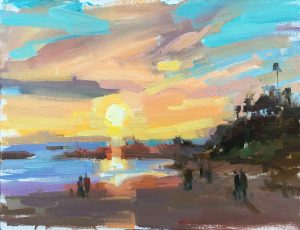 Laguna Sunset
Shelby Keefe is an award-winning, impressionistic painter, teacher and performance artist. Born in Whitewater, WI in 1958, she graduated in 1981 with a BFA from Cardinal Stritch University in Milwaukee, WI. Always painting even while working as a self-employed graphic designer, it was in 2005 when her success as a fine artist allowed her to become a full-time painter. Her award-winning urban landscape paintings and plein air work have earned her participation in prestigious national juried shows, plein air painting competitions, residencies, and arts festivals as well as garnering commission work for many corporate clients and private collectors. She has been written about and featured on the cover of SouthwestArt and PleinAir Magazines and continues to grow her reputation nationally.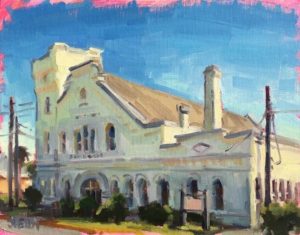 Ft Coombs Light
"I am passionate about drawing and depicting my subjects with honesty as well as expressiveness. My goal is to create a fresh perspective to the recognizable world without being predictable or mundane. Being comfortable at rendering in oil paint, I enjoy tackling complex subjects from cityscapes to the figure in the alla prima method of wet on wet. Utilizing a vibrant underpainting technique of complementary colors, my oil paintings are complex, but not overly worked. As I continue to grow as a representationalist painter, I plan to develop my ability to say more with less."
Cancellation Policy: If cancellation is made on or before August 1, 2019, you will receive a PARTIAL REFUND of 25% of workshop fee. The balance is nonrefundable unless your space is filled.  If cancellation is made after August 1, 2019, the workshop fee is NONREFUNDABLE unless your space is filled. We appreciate your understanding.
Purchase Tickets